Almond Butter Smoothie Bowl
Almond Butter Smoothie Bowl
breakfast
health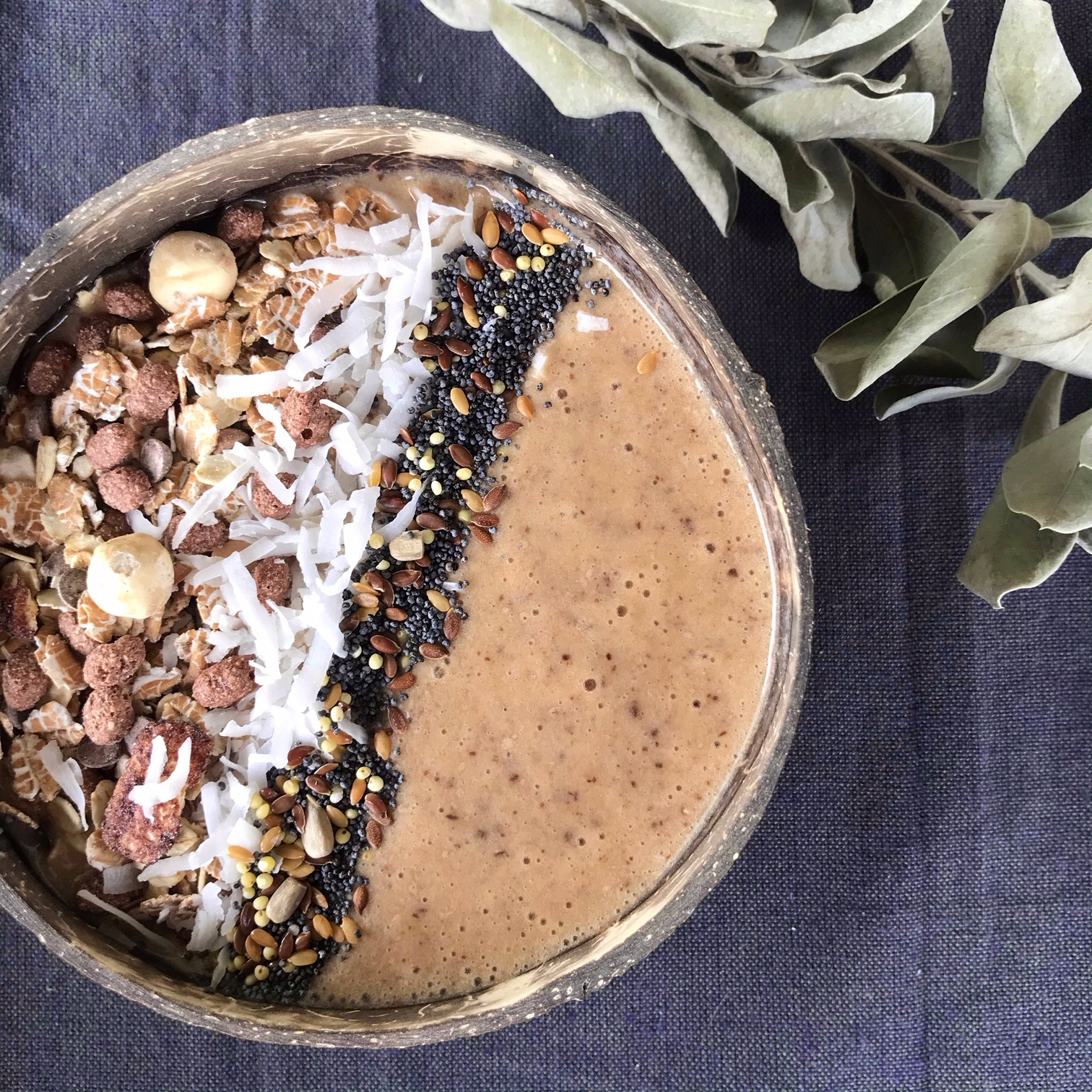 In warm(er) temperatures, a smoothie bowl is my favorite breakfast. You can make so many different variants, great for a variety in fruit and vegetables and useful for using up leftovers in your fridge and fruit basket.
Today I was in the mood for a nutty flavor so I used almond paste. You can of course use any other nut paste or leave it out altogether. Whatever you please!
Did you know that: botanically speaking, almonds are not nuts at all, but stone fruit kernels? Super healthy seeds, because they contain many good substances for your immune system and have an anti-inflammatory effect. Drink plenty of fluids when you eat these seeds because they also contain calcium and iron. So rinse well and enjoy in moderation.
What do you need for the ALMOND BUTTER SMOOTHIE BOWL

1 1/2 banana
1/2 avocado
1 pinch cardamom
300 ml almond milk
1 tbsp sesame seeds
2 to 3 tbsp almond paste
1 tbsp chocolate powder or dark chocolate pieces
1 tbsp linseed
What do you need for the ALMOND BUTTER SMOOTHIE BOWL
Homemade Granola
coconut grater
Seed mix

Kitchen supplies


Preparation
Place all ingredients in a blender and blend until smooth and creamy
Pour the smoothie into a bowl
Sprinkle some topping of your choice on top. I used a seed mix with some grated coconut and home-made granola and enjoy!