Breakfast boost: Crunchy Winter Granola
Breakfast boost: Crunchy Winter Granola
breakfast
vegan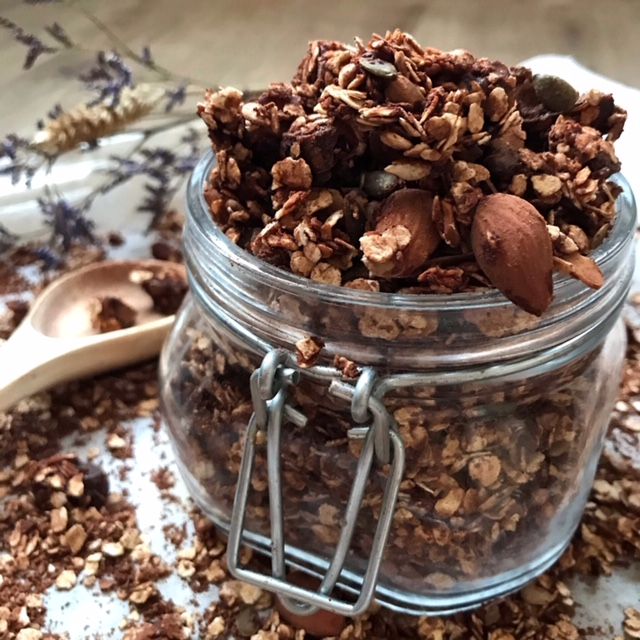 Chai, gingerbread spices, cinnamon, vanilla, all scents and flavors that go wonderfully with the winter season. Every morning we wake up here with a big smile and that is partly due to the breakfast parties we hold here. Every day is a party, if you make it that way, we will do it with pleasure and a crunchy winter granola.
Wintery because the smell and taste take you to a cozy winter day and crunchy because that's part of a good granola! Delicious over coconut yogurt, or any kind of yogurt for that matter, but also not bad over cupcakes or other sweet pastries. Of course you can vary the taste yourself and experiment what you like!
What do you need for the Breakfast boost: Crunchy Winter Granola recipe
200 gr oat flakes




50 gr sunflower seeds



50 gr pumpkin seeds
handful of dates
3 to 4 tsp gingerbread spices
2 tsp cocoa powder
Handful of almonds
Grated almond to taste
Coconut grater to taste
Chia seed to taste
Agave or other sweet to taste
Kitchen supplies


Preparation of Breakfast boost: Crunchy Winter Granola recipe
Preheat the oven to 175 degrees



Place a piece of parchment paper on the baking tray
Sprinkle all ingredients on top and stir well
Taste to see if it is flavored and if not, add some more herbs or agave
Put in the oven for 25-30 minutes
Let cool completely and then put the granola in an airtight jar, we use a preserving jar
You can easily store the granola for two weeks in an airtight container, enjoy your meal!
Now you can enjoy the health benefits of homemade granola, such as a high amount of vitamins and fiber. Don't forget to store the Crunchy winter granola in a dry place, because the moisture makes it lose its crispness and crunch.