Healthy BBQ sauce recipe
dinner
Sauce, dressing and gravy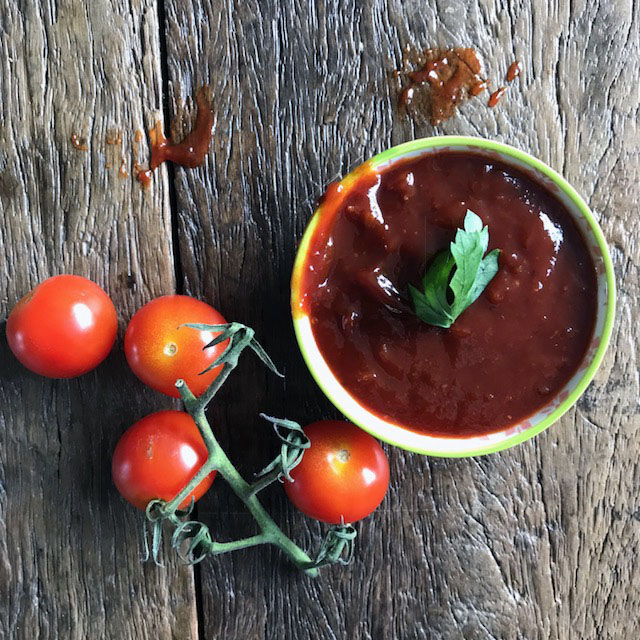 Who doesn't like BBQ sauce? Sweet, spicy and sometimes it just gives that extra wow factor to a dish. You can eat it with various dishes such as the 'Meatloaf' that is also on my blog, but also with potatoes or over a salad. It does not always have to be an unhealthy variant, because this BBQ sauce is completely healthy. Pure, no crazy additives and only whole foods.
I'm curious what you think!
What do you need to cook Healthy BBQ sauce recipe
240 ml tomato sauce



3 cloves of garlic
60 ml apple cider vinegar
15 ml maple or agave
45 grams of brown sugar or coconut blossom sugar
pinch of salt, paprika powder and onion powder
Cumin
Cayenne pepper
White pepper
15 ml lime juice
1 pepper in adobo sauce
5ml olive oil
Coriander
Cornstarch
Kitchen supplies
Preparation of Healthy BBQ sauce recipe
Mix the cornstarch with some water until smooth and set aside.



Place all ingredients for the sauce in a blender and blend until smooth. Add spices in preferred amounts.
When everything is mixed together, put the mixture in a pan and bring it to a boil over low heat for 20 minutes. Don't forget to keep stirring well in the meantime.
Then lower the heat and add the cornstarch mixture to the sauce. Keep stirring until the sauce has become smooth.
When the sauce gets a little 'thicker', leave it on the fire for about 5 minutes.
And your healthy BBQ sauce is ready!
Tip: if you like more spicy barbecue sauce, add more cayenne pepper. A good replacement of Cornstarch are: Potato Starch, Rice Flour or Tapioca Flour. If you would like your BBQ sauce extra healthy up to the level of super-food just a add a spoon of Spirulina Organic Seaweed Powder. Spirulina Powder is rich with vitamin B12, protein, iron, B vitamins, and has antioxidant properties.