Smooth sugar-free brownie (raw) recipe
Smooth sugar-free brownie (raw) recipe
comfort food
desert
healthy snacks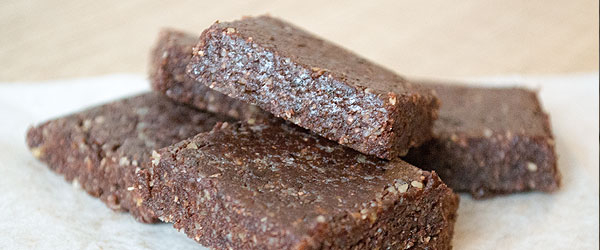 Want a light and easy but tasty desert? This no bake Smooth sugar-free brownie (raw) recipe is a great option among healthy desserts with chocolate.
In 1893 a dessert was baked for visitors in the Palmer House Hotel in the form of a small piece of chocolate cake. Everyone knows this little chocolate cake these days as the 'Brownie'. Brownies are very easy to make.

You throw some butter, sugar, cocoa, eggs, flour and Himalayan salt or Celtic sea salt in a bowl and mix. That can of course also be done differently! You can also make those delicious creamy brownies with ingredients that actually add something positive to your daily diet.
The nice thing about this healthy brownie recipe is that you don't bake the brownies. So you can say that this is a raw brownie and all healthy nutrients are therefore nicely preserved.

What do you need for the Smooth sugar-free brownie (for about 12 brownies)
250 gr dates



200 gr walnuts
50 gr raw cocoa
50 gr ground coconut + some extra to sprinkle the brownies
3 tbsp honey or agave syrup
1/2 tsp Himalayan salt or Celtic sea salt
2 tbsp water
Kitchen supplies


Preparation of Smooth sugar-free brownie
Pit the dates



Put the walnuts in the food processor and grind until it becomes a kind of flour
Add the dates and mix until it is a mixed whole
Now add the raw cocoa, ground coconut, honey or agave syrup and the Himalayan salt or Celtic sea salt and mix until it becomes a dough
Add 2 spoons of water to make it a little smoother
Line a brownie tin or cake tin with baking paper. Spoon the brownie mixture into the mold and press down well with a spatula and smooth out
Place in the fridge for about 2 hours to firm up the brownies
Sprinkle with some grated coconut or something else to your taste