Vegan Banana Bread With Chocolate
Vegan Banana Bread With Chocolate
comfort food
vegan
breakfast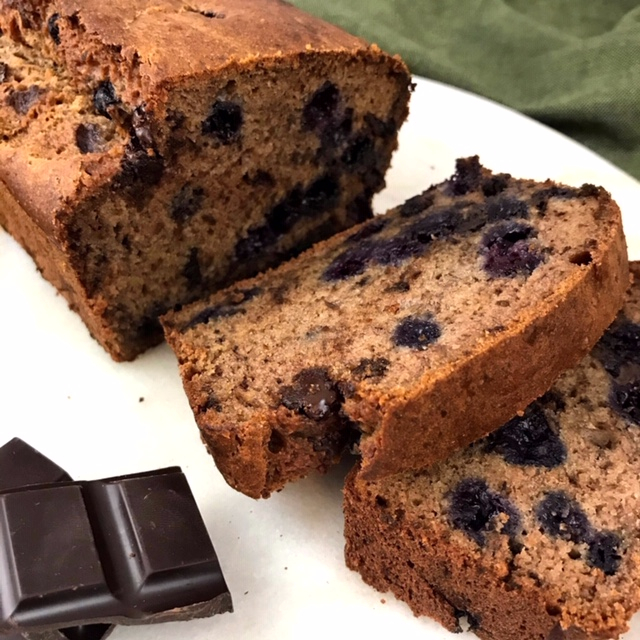 Tasty, filling and handy for on the road! Banana bread is always good and this vegan variant is really delicious. You can vary freely with all kinds of nuts, fruit and delicacies that make you happy.
Did you know; Are bananas good for constipation as well as diarrhea? There is so much soluble fiber that it helps your intestines to recover, whatever the complaint is! Suffering from heartburn? Even then the banana is your best friend.
Bananas are definitely recommended to include in your diet every day. They are tasty, easy to use in many dishes and they contain no less than 5 of the 8 vitamin B that your body needs.

What do you need for the Vegan Banana Bread With Chocolate

4 to 5 organic bananas
Handful of soft dates
250 gr buckwheat flour /1 cups (100 gr) oat flour – 1 cup (150 gr) buckwheat
50 ml almond milk – 1/2 cup
6 tbsp coconut oil – 1/4 cup
2 tsp vanilla
5 tbsp agave or maple – half a cup of coconut blossom sugar
1 tsp cinnamon
1 tsp gingerbread spices
1 flaxegg
1 tsp baking powder
1 tsp baking soda
Pinch of Himalayan salt
100 gr dark chocolate
4 – 6 tbsp wild blueberries optional
1 drop orange extract (optional)
Kitchen supplies


Preparation of

Vegan Banana Bread With Chocolate
Preheat the oven to 175 degrees
Grease the cake tin or line it with some baking paper
Place the bananas, almond milk, melted coconut oil, vanilla and agave in a blender and blend until smooth
In a mixing bowl, combine the flour, cardamom, baking powder, baking soda and salt and mix well
Then add the banana mixture and stir lightly until it has become a nice airy batter
Leave the batter for a while
Then add the chocolate and the wild blueberries and stir gently
Pour the batter into the cake tin and put it in the oven for 40-50 minutes (check with a skewer if it comes out dry, then your banana bread is ready).
Enjoy!