Vegan Chai Cupcakes Recipe
Vegan Chai Cupcakes Recipe
desert
vegan
comfort food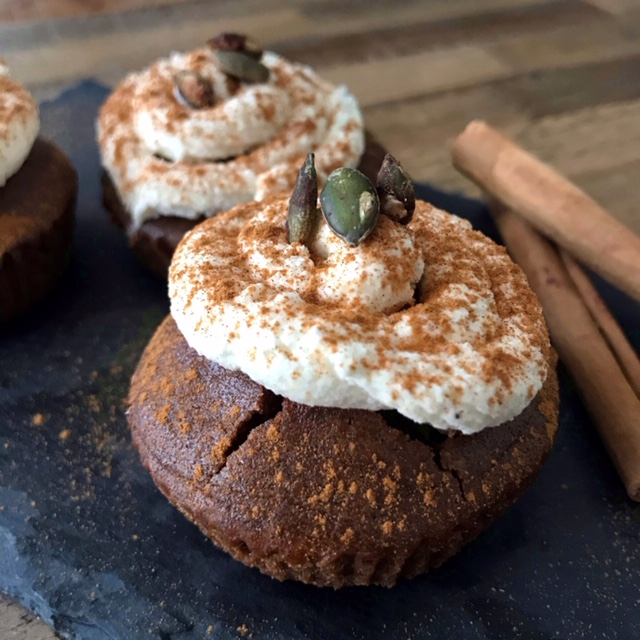 Looking for a festive recipe at the last minute? These vegan chai cupcakes make us very happy! I associate the smell of chai with a cozy winter day, nice and warm by the fireplace…

Melt in your mouth with the creamy taste of vanilla chai, followed by a delicious gingerbread cupcake. If you have already bought it (great chance…) then it is of course more than suitable for any occasion!
What do you need for the Vegan Chai Cupcakes

200 gr flour
100 gr coconut blossom sugar
125 gr coconut oil or another vegetable oil
5 tbsp gingerbread spices
1 tsp cinnamon
1 tsp baking powder
1 tsp apple cider vinegar
1 linseed egg or other egg substitute
vanilla
pinch of Himalayan salt or Celtic sea salt
For the cream topping for Vegan Chai Cupcakes
100 gr vegan mascarpone



75 gr vegan butter
5 to 6 tablespoons powdered sugar or coconut blossom sugar
1 tsp chai spices
2 to 3 tsp lemon juice
1 tsp vanilla (extract)
Kitchen supplies


Preparation of Vegan Chai Cupcakes
Preheat the oven to 180 degrees
Put all the dry ingredients of the cupcake in a mixing bowl
Then you put all the ingredients in a bowl and mix until you're happy
Add the wet to the dry ingredients and mix well again until you have a nice batter
Fill the cupcake forms with the batter
Place in the oven for 25 to 30 minutes
Make the topping by combining all the compositions, mixing and then putting it in a piping bag
Let the cream topping stiffen in the piping bag in the fridge
Remove the cupcakes from the oven and let cool completely
Pipe the topping on the cupcakes and to top it off, sprinkle some cinnamon with some new pine nuts and enjoy!