Vegan coconut macaroons
desert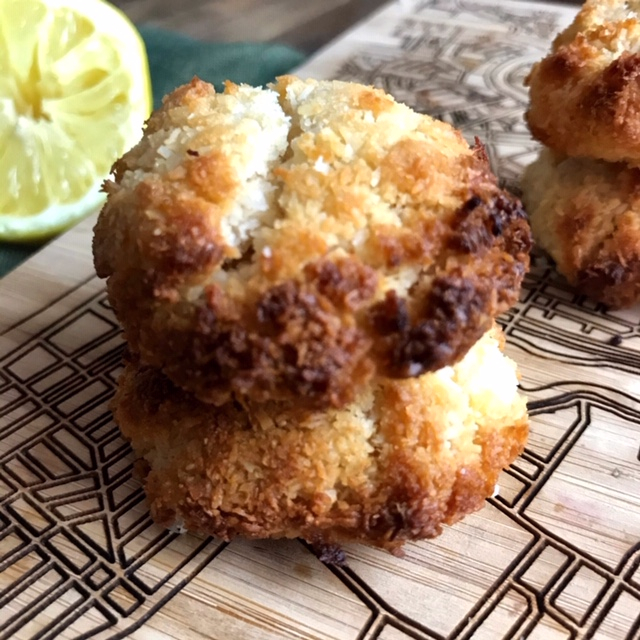 Simple, super tasty and nourishing! These delicious vegan coconut macaroons are a must if you are short on time and still want to put something delicious on the table.
I rounded the recipe with 5 elements, like all recipes lately. You could also call it Umami. By adding all the flavor elements, the taste is always nicely balanced.

Did you know that coconut improves your digestion? This is because it contains a lot of fiber. In addition, coconut also strengthens our immune system. Top product to regularly process in your diet.WHAT DO YOU NEED FOR THE Jamie's Frutti Di Mare

What do you need for the vegan coconut macaroons

1 1/2 cup organic coconut grater
1 tsp vanilla extract
2 to 3 tbsp coconut oil
Pinch of ginger powder
Himalayan salt or Celtic sea salt
1 1/2 tsp lemon juice and lemon zest
25 gr almond flour
4 tbsp cup maple syrup

Kitchen supplies


Preparation
Preheat the oven to 175 degrees
Put all ingredients in the blender and pulse briefly, so that the coconut is not completely fine
Make balls of the batter and flatten them slightly on a baking paper on the baking tray
Place in the oven for 12-14 minutes, until they are a nice golden brown
Let the coconut macaroons cool down and enjoy!
Do you also really like this Dutch Houses shelf? Click here for more information. Is there a very nice story behind Renske's beautiful products