Dill Beetroot Hummus recipe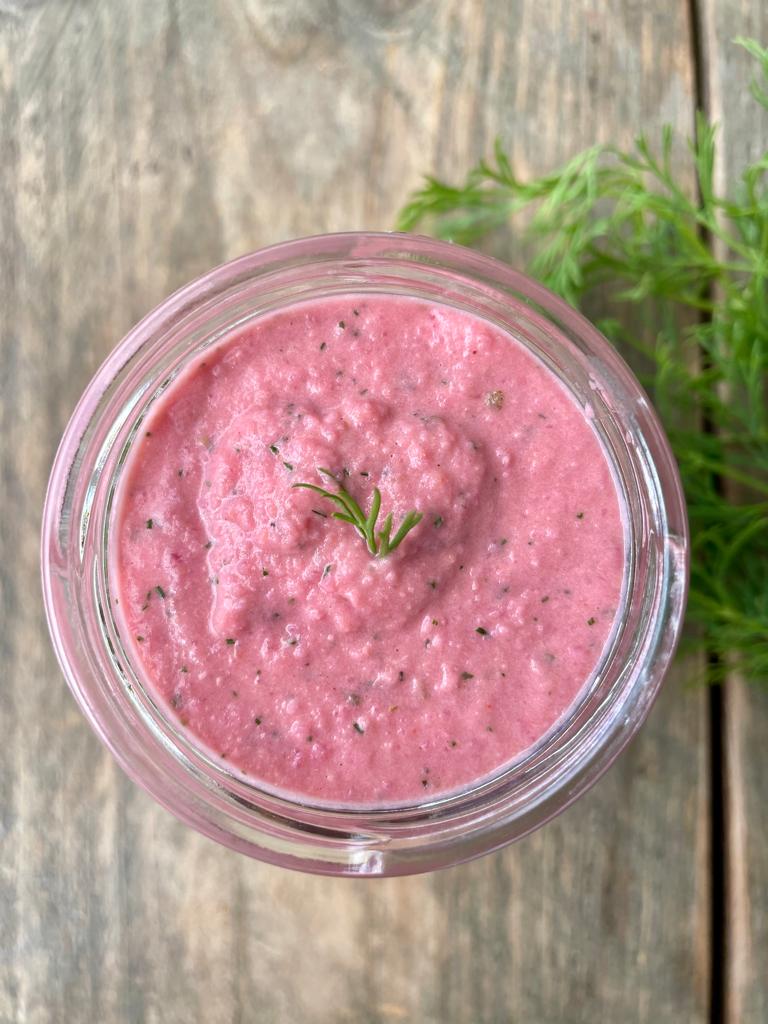 Looking for a tasty and fresh spread? This dill beet hummus tastes so nice and fresh and is delicious to combine with raw vegetables, on toast, in a sandwich, in a wrap or with a salad. You have this hummus on the table in no time and it is also a good way to get extra vegetables.
This recipe is prepared according to the teachings of Chinese medicine and the 5 elements. By making it that way you get the most energy from your food and you can bring yourself more into balance. Do you want to know more about nutrition and Chinese teachings or are you interested in a holistic view of life? Then take a look at By Meraki, which is another platform I have published to contribute to coming home to ourselves. To recognize ourselves again for who we are.
Enough about that, for now on to a healthy and super tasty dill beet hummus!

---
What do you need to cook Healthy Dill Beetroot Hummus recipe
1 can of chickpeas




Pepper to taste



Cayenne to taste
1 clove of garlic
Salt to taste
30ml tahini
20 ml lemon juice
120 gr beets
Fresh dill to taste
1 tsp capers with 1 tsp of the caper water
15-20 ml of olive oil
Kitchen supplies
Preparation of Healthy Dill Beetroot Hummus recipe
Peel the garlic and cut into quarters



Put all ingredients in the blender and blend until it has become a nice smooth hummus
Scoop into a nice jar, bowl or container and top off with some olive oil, pepper and fresh dill. Enjoy it!
And your healthy Dill Beetroot Hummus is ready!
Storage tip: you can store the hummus in an airtight jar for 7-10 days, after opening we consume it within 3 days.
Serving tip: make a tasty tapas / mezze platter with this vegan tzatziki, some baked pitas, raw vegetables for dipping, olives, nuts and some fresh fruit. Enjoy your platter!